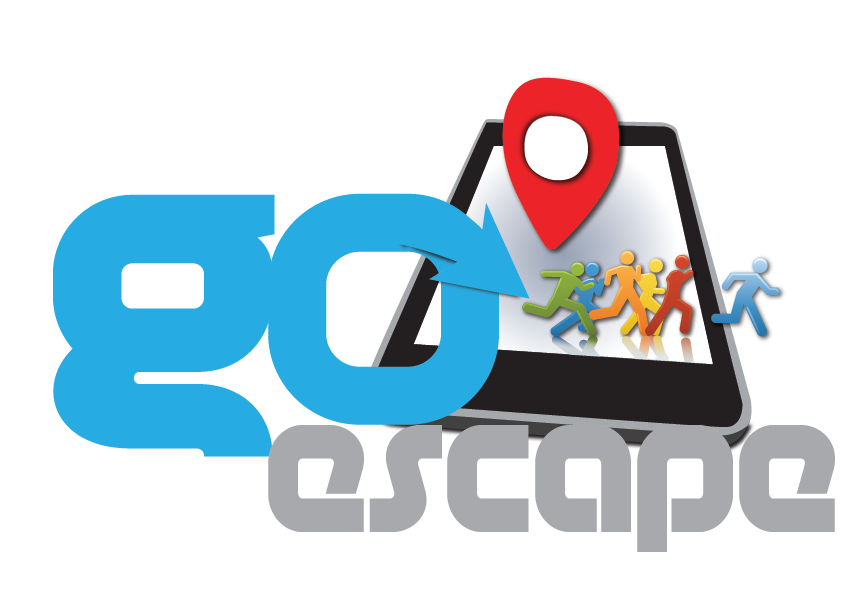 Themed Go Team Activities
Go Escape programs are themed indoor or outdoor escape games combining all the interactivity and real time scoring of the Go Team app with popular Escape Room Challenges. Test your team's collaborative problem solving skills, discover hidden items, solve challenging puzzles, and unlock amazing secrets. Choose from Escape the Mob, Escape the Matrix or a CSI themed challenge.
Go Escape programs use a variety of Escape Room puzzles. If you are up with the latest Escape Room trends you'll know that means ciphers, symbol swapping alpha puzzles, searching for objects in images, riddles, pattern identification, strange smells, mysterious sounds and more! Armed with a tablet and a backpack of cool tactile escape room equipment your team will be ready to take on the challenge.
Here are some of our most popular solutions available worldwide. Go Escape team building games can be run indoors or outdoors at most locations. Get in Touch and let us know your groups size, location and outcomes and we will tailor a program to suit!
Go Team – Escape the Mob
Escape the Mob begins with a mysterious video telling teams that they are incriminated in the perfect heist. They were in the wrong place at the wrong time. Teams a limited amount of time to get their story straight and determine the exact time they were at each place on the night of the robbery.Mobster style dress up adds to the fun and laughs. Teams embark on fun, engaging journey of creative thinking and problem solving. In true escape game style there are a variety of challenges from analytical, to sound, touch, smell, riddle and more. There are even photo and video challenges to complete as teams race to establish where they were on the night to clear their name.
About
To escape a "virtual world" that is replicated on their tablet interface, teams must travel a "real world" adventure path. Participants must navigate a variety of game sectors and virtual checkpoints while carrying a "Action Pack" packed of essential tools and devices. Each sector is cunningly constructed to test team dynamics and put participants' capacity for efficient on-the-go communication to the test. More puzzles, riddles, and hidden checkpoints are gradually revealed as teams race across real-world terrain towards GPS-triggered checkpoints in order to escape and "Escape the Maze." The solutions and decisions that teams come up with reveal hidden alternate pathways with "shortcuts" for the savvy and "dastardly diversions" for the less fortunate! Every choice has an effect because there are various options for resources and tools that can truly affect how they advance.
Learning Outcomes
A virtual world adventure that is highly interactive and fast-paced. The team will need to work closely together, emphasising teamwork, making decisions under pressure, trust, leadership, and learning from experience. Issue solving is just the beginning. It is possible to operate Escape the Maze as a competitive activity where time management, accountability, and communication are essential. Teams can approach the sectors simultaneously for a collaborative learning outcome, sharing their lessons learned from success and failure as they go along utilising the in-app communications. Teams in both situations must come together at the very end to rescue themselves.
Crime Solvers International
Teams need to solve a realistic crime scenario. Solving a series of escape challenges like 999 calls, crime scene videos, filmed suspect interviews, photographs, autopsy reports, transcripts, forensic evidence quiz challenges to solve the crime as they race to different destinations with the Go Team app. Communication and listening to each other is key to success as team members are taken away from their tables at certain points to receive vital information which they must relay back to their team. Realistic pressures are introduced along the way to add to the atmosphere of a real crime investigation.
In your evidence bag you have equipment and clues that will help you solve the crime.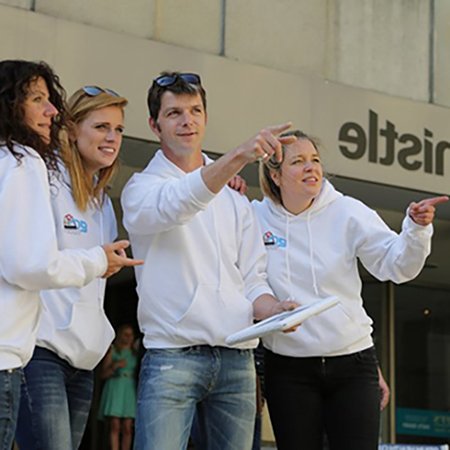 Escape the Island
Teams are stranded on an island. To escape they must spot a passing ship and send it a signal. While they wait, they need to adapt to island life to survive. The island represented on a tablet, is divided into nine zones. In each zone they are faced with a series of challenges focusing on different aspects of island survival including water, weather, first aid, building shelters, signalling and the like. Items washed up on the shore will help them in answering the challenges. Completing the challenges successfully will give them vital survival skills.Teams need to gain enough knowledge of each aspect in order to survive. Too much time in a zone and they will lose time to gain knowledge of other survival techniques. Too little time and they will not gain the vital knowledge they require. Once they leave a zone they cannot return.Teams eventually determine the name of the ship and when it will be passing. Successful teams signal the ship and are rescued. The team with the most points is declared the winner.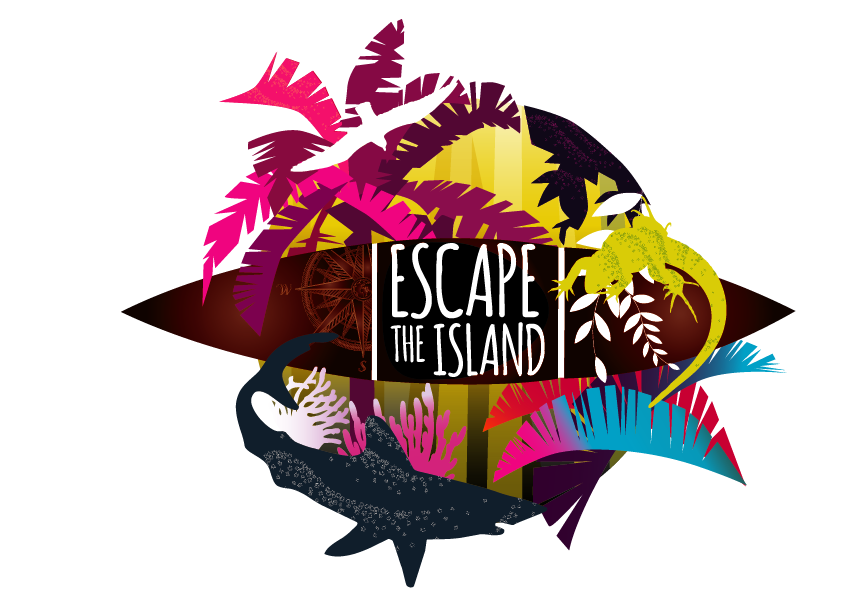 About
As the sun sets, you find yourself standing on a path that winds its way through a dark wood. In the distance, a house glows with an eerie light, and the hypnotic strains of music drift from its basement. As you draw near, the gate swings open, and the door creaks wide, inviting you inside. Once your group crosses the threshold, the door slams shut, trapping you all within. However, you soon discover that one of your team possesses the ability to communicate with the dead – the Ghost Whisperer. The ghosts and malevolent spirits that haunt each room in the house have cursed your team with three ghoulish quests. With time running out, your team must search every nook and cranny of each room for clues to help your Ghost Whisperer solve each mystery. Only by solving all three quests can you all escape the haunted house alive!
 Learning Outcomes
The Haunted House experience has been specifically designed to foster a culture of courage within teams. The game mechanics encourage teams to collaborate, respect and appreciate each other's ideas, actively listen, and engage in meaningful discussions. As trust builds within the team, participants learn to overcome their fear of failure, take courage to voice their opinions, and communicate their ideas effectively. Through trust, self-belief, and courage, teams discover the power of collaborative deductive reasoning, leading to success.
Excitement and anxiety can often cause practicality and logical thinking to falter. However, teams that maintain a cool head can think rationally and employ effective problem-solving skills together, even under pressure.
With its engaging theme and escape room-style challenges, Haunted House offers a fresh and infectious perspective on team-building. This experience provides an opportunity for participants to engage with their colleagues in a new, informal setting, which can positively impact how they interact and work together.
By gamifying the essential elements of courageous teamwork, Haunted House creates a memorable shared experience that teams can draw on long after the activity is over.
About
Escape the Blizzard begins at a team training centre, where teams are tasked with learning survival skills that may come in handy with today's destructive weather patterns. Using our app-based technology, teams will learn, practise and compete for face-to-face in several survival skill-themed challenges through trivia, and photo and video submission. Zones include Navigation, Shelter, Knots, Fire, Animal Awareness, Water Filtration, Signalling, First Aid and Food. There are too many zones for one team to complete.
Suddenly, the training is interrupted by an incoming storm alert. In just 30 minutes, the whole region will be hit with a storm expected to last for weeks, maybe months.
To survive, teams must collaborate as one group, and put their new skills to the test to release the real survival tools that have been locked in a box. The final test includes target accuracy, first aid stretcher challenge, deciphering Morse code, shelter building and more. Completing the challenges correctly will allow them to unlock the box to give them the correct tools to survive the blizzard. The team that plays together survives together.
Learning Outcomes
Escape the Blizzard has been specifically designed to compel team members to collaborate face-to-face. With an escape room style finale, we see teams and individuals explore role delegation and encourage group discussions on skill set strengths and weaknesses. Teams must problem solve, perform and succeed in a fun 'time pressured' environment.
The training zones are focused on real life basic survival skills, players will complete the game with an increased knowledge of surviving in the wilderness.
The immersive theme and engaging challenges promote discussion giving opportunity for storytelling of past experiences, creating the space for team members to get to know each other on a new and genuine level.